AWARDS
2022

Gold Flag Members Club from 59 Club Asia Service Excellence Awards 
Asian Golf Awards – Best Golf Club Experience in Asia Pacific (Second Runner Up)
Asian Golf Awards – Best Course in Thailand (First Runner Up)

2019

Silver Flag Members Club from 59 Club Asia Service Excellence Awards 
Asian Golf Awards – Best Food and Beverage Experience in Asia Pacific 
Asian Golf Awards – Best Locker Room/ Male or Female in Asia Pacific
Asian Golf Awards – Best Managed Golf Club in Asia Pacific (First Runner Up)
Asian Golf Awards – Best Club House ins Asia Pacific (Second Runner Up)

2018

Asian Golf Awards – Best Food and Beverage Experience in Asia Pacific
Asian Golf Awards – Best Locker Room / Male or Female in Asia Pacific (First Runner Up)
Asian Golf Awards – Asian Golf Awards – Best Managed Golf Club in (First Runner Up)
Asian Golf Awards – Asian Golf Awards – Best Pro-Shop in Asia Pacific (Second Runner Up)
Asian Golf Awards – The 101 Sustainability Citation Award (for its innovative programme at promoting a holistic sustainability programme. It is a demonstration of the club's support of and belief in a programme that is designed to help Thai Country Club become a responsible corporate citizen in the kingdom. 

2017

Asian Golf Awards – Best Locker Room/ Male or Female in Asia Pacific
Asian Golf Awards – Best Golf Club Experience in Asia Pacific
Asian Golf Awards – Best Food and Beverage Experience in Asia Pacific (Second Runner Up)
Asian Golf Awards – Best Golf Club Experience in Asia Pacific
Asian Golf Awards – Best Course in Thailand (Second Runner Up)

2016

Asian Golf Awards – Best Managed Golf Club in Asia Pacific 
Asian Golf Awards – Best Locker Room/ Male or Female in Asia Pacific (First Runner Up)
Asian Golf Awards – Best Maintained Course in Asia Pacific (First Runner Up)
Asian Golf Awards – Best Food and Beverage Experience in Asia Pacific (Second Runner Up)
Asian Golf Awards – Best Course in Thailand (First Runner Up)

2015

Asian Golf Awards – Best Managed Golf Club in Asia Pacific (Frist Runner Up)         
Asian Golf Awards – Best Course in Thailand (First Runner Up)

2014

Asian Golf Awards – Best Course in Thailand (First Runner Up)

2013

Asian Golf Awards – Best Club House in Asia Pacific (Second Runner Up)
Asian Golf Awards – Best Course in Thailand (First Runner Up)

2012

Recognized by Forbes Travel Guide as one of 'Asia's 10 Most Elite Golf Courses'
Asian Golf Awards – Best Course in Thailand (Second Runner Up)
Asian Golf Awards – Best Club House in Asia Pacific (Second Runner Up)

2011

Asian Golf Awards – Best Course in Asia Pacific (First Runner Up)
Asian Golf Awards – Best Course in Thailand (First Runner Up)

2010

Asian Golf Awards – Best Course in Asia Pacific (First Runner Up)
Asian Golf Awards – Best Course in Thailand

2009

Asian Golf Awards – Best Club House in Asia Pacific
Asian Golf Awards – Best Course in Asia Pacific (First Runner Up)
Asian Golf Awards – Best Course in Thailand

2008

Asian Golf Awards – Best Championship Course in Asia
Asian Golf Awards – Best Club House in Asia Pacific (First Runner Up)
Asian Golf Awards – Best Course in Thailand

2007

Asian Golf Awards – Best Club House in Asia Pacific
Asian Golf Awards – Best Championship Course in Asia Pacific (First Runner Up)
Asian Golf Awards – Best Course in Thailand

2006

Asian Golf Awards – Best Club House in Asia Pacific
Asian Golf Awards – Best Championship Course in Asian Pacific (First Runner Up)
Asian Golf Awards – Best Course in Thailand
MAJOR INTERNATIONAL TOURNAMENTS

Aramco Team Series 2022
26 teams of 4, battling it out over two days at Thai Country club to become the fifth Aramco Team Series champions.
Individual competition: Manon de Roey – who recorded her first Ladies European Tour win in her 73rd start on the tour.
Team competition: Team Hillier – made up of Whitney Hillier, Krista Bakker, Chonlada Chayanun and amateur, Pattanon Amatanon.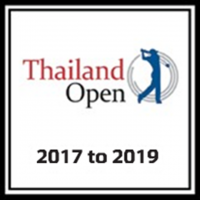 Thailand Open 2017 – 2019
The prestigious Thailand Open returned to the Asian Tour schedule in 2017 after an eight-year lapse. The Thailand Open, which was inaugurated in 1965, is one of the oldest National Opens in Asia. Sanctioned by the Asian Tourn and the Thailand Golf Association, the Thailand Open was held at Thai Country Club for its third straight edition on the Asian Tour. 
Winner 2019 – John Catlin
Winner 2018 – Panuphol Pittayarat
Winner 2017 – Rattanon Wannasrichan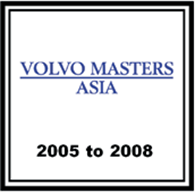 Volvo Masters of Asia 2005 – 2008
The Volvo Masters of Asia was first played in 2002. Thai Country Club was selected to host the prestigious Volvo Masters Asia four years in a row where the two famous Thai golfers claimed the victory over two years. 
Winner 2008 – Lam Chih Bing
Winner 2007 – Prayad Marksaeng
Winner 2006 – Thongchai Jaidee
Winner 2005 – Shiv Kapur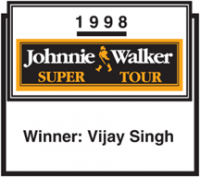 Johnnie Walker Super Tour 1998 
Thai Country Club hosted the second leg of the Johnnie Walker Super Tour 1998 won by Vijay Singh who finished 2 strokes ahead of Jesper Parnevick and 3 strokes ahead of Ernie Els and Brian Watts.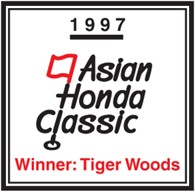 Asian Honda Classic 1997
In March 1997 Thai Country Club hosted its first major golfing tournament as the venue for the Asian Honda Classic. Tiger Woods beat a world-class field to cruise to a comfortable, 10-stroke victory after shooting a final round of 68 for  20-under par total of 268 for the championship.