Restaurant.
The dining room, elegantly furnished with local rattan and object d'art, features a selection of imaginative menus specializing in Thai, Chinese, Japanese and Western cuisine backed by impeccable and inimitable service.
Click here to view food and beverage menu: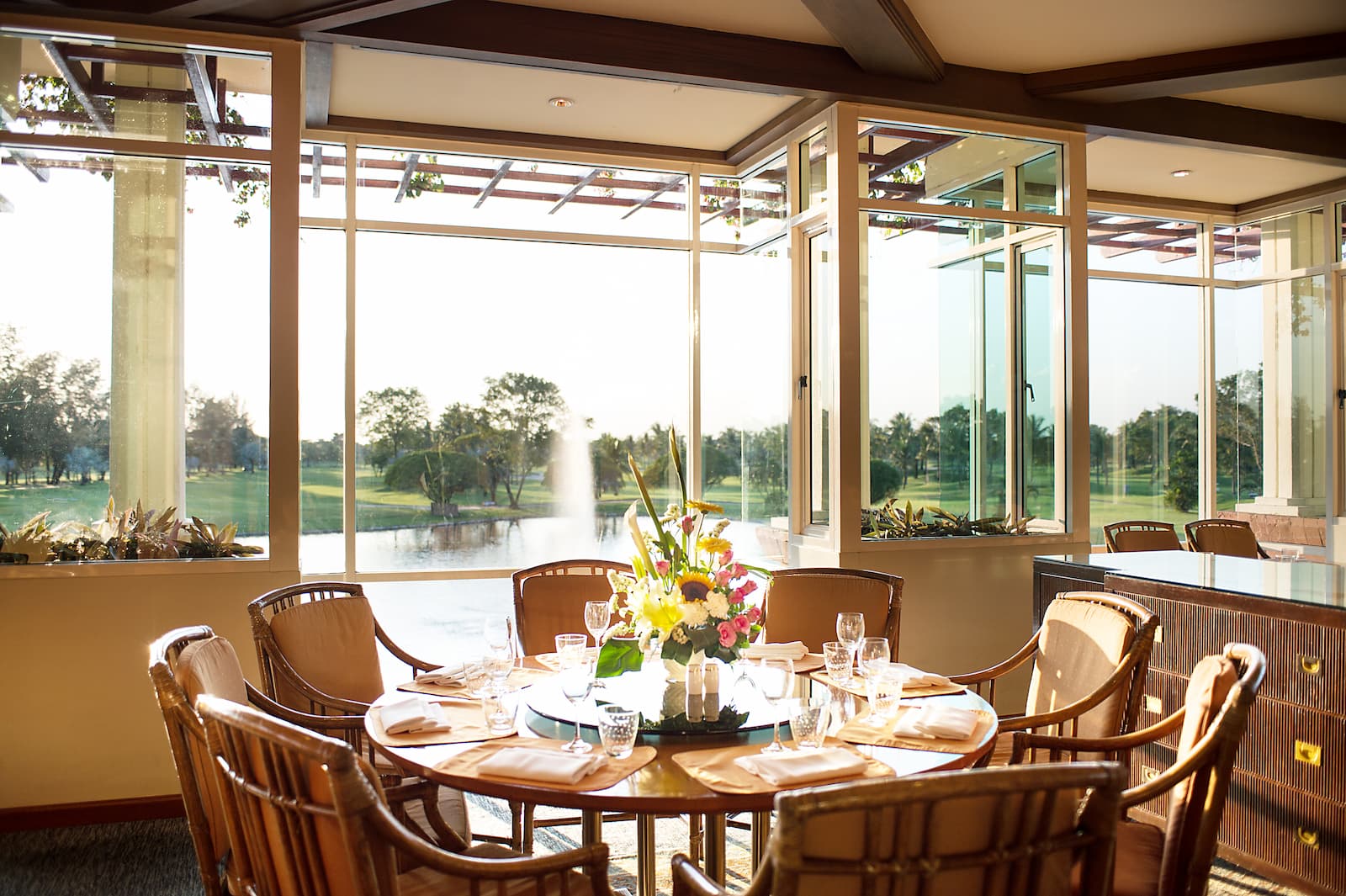 Kiosk.
Conveniently located after the 3rd hole, the 6th, the 12th, and 14th hole are our relaxing on-course Kiosks with a shaded seating area to enjoy light snacks and a wide range of beverages plus both Men's and Ladies' rest rooms. 
In addition, adjacent to our 1st tee, which is also on the way from the front 9 to the back 9, is another Kiosk for a refreshing break of light snacks, a wide range of beverages, with a lovely view of the first tee and the lake.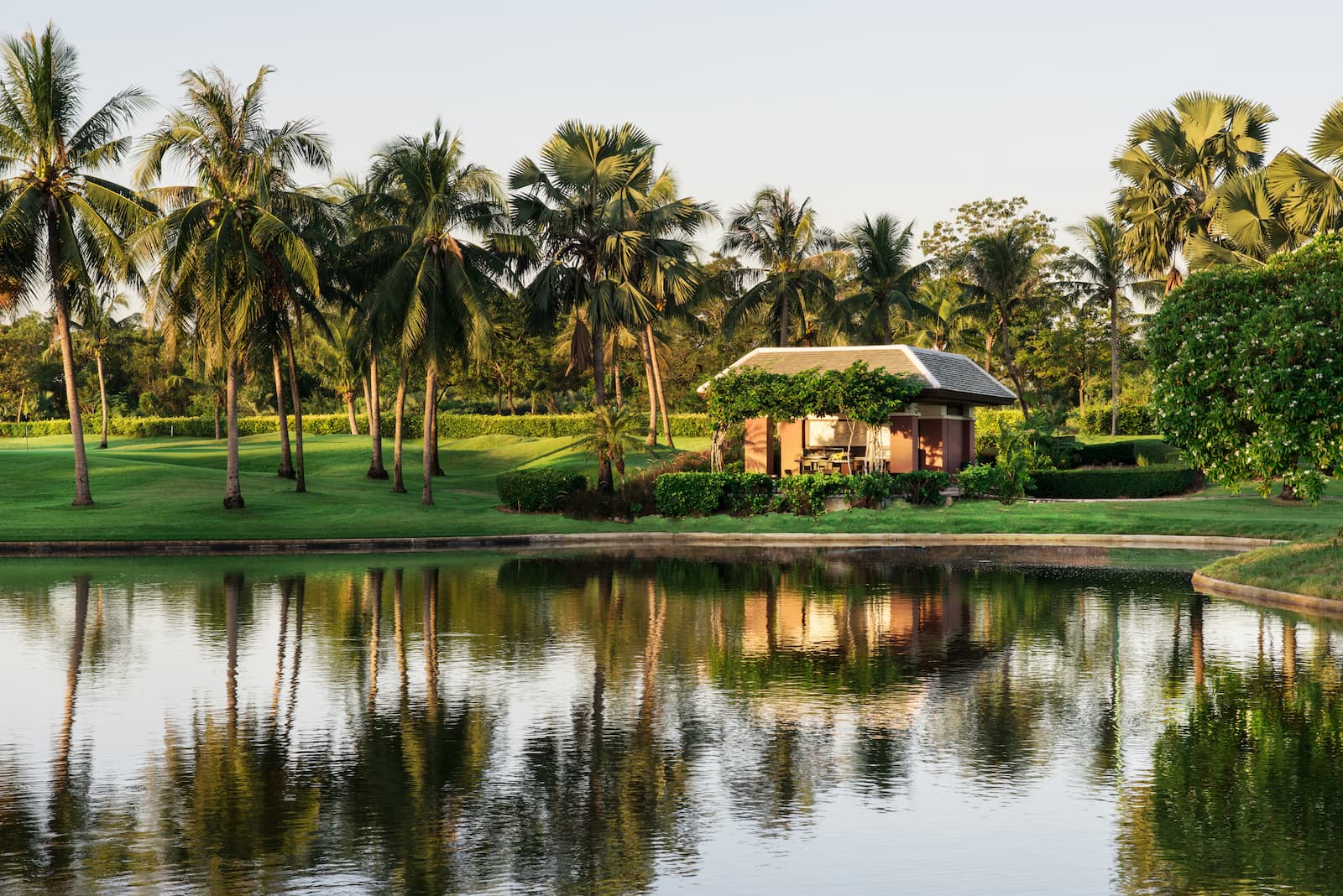 Meeting Room.
A well appointed, private dining and conference room with its own balcony overlooking the first tee, is also available and is ideal for pre-game meetings, luncheons and dinners for special groups of friends or for entertaining V.I.P. guests.
The ground floor features a grand, open-air Banqueting Hall that is the focal point for tournaments. The main function area overlooks the 18th hole and the setting sun, and can accommodate up to 600 for cocktails or 300 for a buffet luncheon. It is also the perfect venue for private functions.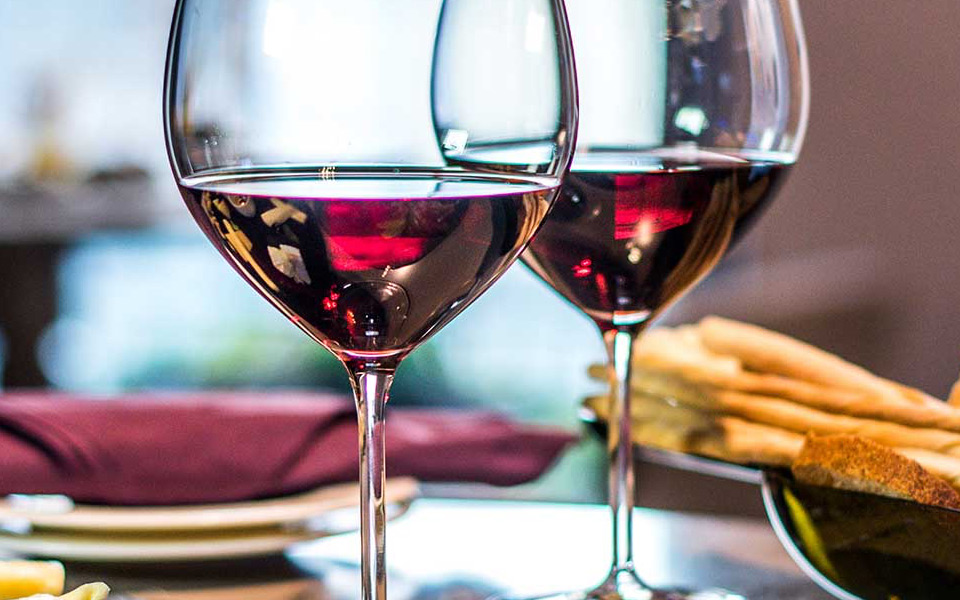 Corporate Events.
A corporate golf day at Thai Country Club provides the perfect setting for a personalized approach to influence decision-makers and cultivate lasting business relationships.
Our team of professionals is committed to making your event special, in the true tradition of service excellence, which has long been Thai Country Club's hallmark for success. Thorough planning, attention to fine detail and hands-on support throughout the entire event, will ensure a successful and memorable day for all participants.
Available on Monday's only, exclusively for your group (maximum of 144 golfers) host a private golf day or tournament. Complimentary driving range usage and unlimited golf balls, registration desk, function room with stage/backdrop and sounds system are included. Smaller tournaments are also available on weekdays.
For more information and enquiries please contact us at inquiry@thaicountryclub.com